Product was successfully added to your shopping cart.
About

Success Story

Donor voice

Spend time

Projects
Vision
---
To build a community that will unreservedly care for its children through a preventive and promotional approach which supports children and activates forces in the society that favour them. Show More
Mission
---
To encourage the young at risk to join the mainstream of society as educated and productive citizens by partnering with the children in their daily struggle to grow off the streets. Show More
About The Founder
---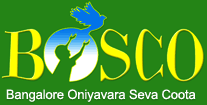 BOSCO
Bangalore Oniyavara Seva Coota (BOSCO) is a voluntary organization working with street and working children in Bangalore city for the last thirty years, we derive our inspiration from BOSCO the priest Don Bosco of Turin (1815 - 1888), an educationalist who worked tirelessly for the betterment of destitute and needy youth who lived on the streets during his lifetime. How it started In 1980, some Salesian students of Kristu Jyoti College, Bangalore felt a strong inclination to reach out to the neglected children and youth on the streets of Bangalore. 5 yrs later, in July 1985, the Bangalore Salesian Society bought a small two-storey building at Magadi Road, 2 kms from the City Bus Stand and Railway station to serve as a night shelter and doubled up as a training unit. Fr. George Kollashany SDB patronised the project for the first 9 years. In 1986, BOSCO was registered as Society. Show More
Summary
---
This centre acts as a halfway home to street children below 15 years who are persuaded to come away from the streets. At this centre, boys enjoy maternal/paternal care, affection, concern and true fellowship.Some of the them are referred to other institutions for formal education while others attend training in carpentry, welding, two wheeler repairs, tailoring, electrical and bookbinding. At present there are about 80 boys residing in the centre. Besides, Mane serves as a convalescing centre from 1986 for the sick boys from the areas that require special care. The major services of the centre Child & Family Counseling Enrollment into Formal Education Awareness on Health & Hygiene Recreational Activities Home Integration and Repatriation CHILDLINE Special Juvenile Police Unit (SJU) Don Bosco Fest Prayer Services Children's Day Celebration Craft Works Value Imparting Programs Orientation Programs Various Religions Celebration Show More
Related NGOs
No stories yet. Come back after some time!
Related NGOs
Celebrate a birthday. Give a surprise visit. Play. Spread a Smile!
"The greatest gift you can give someone is your time, your affection, your love, your concern." - Joel Osteen
Related NGOs
No events yet. Come back after some time!
Related NGOs