Product was successfully added to your shopping cart.
About

Success Story

Donor voice

Spend time

Projects
Vision
---
Parinaam will convert stumbling blocks into stepping stones on a pathway of "change" that will have multiple impacts on the poor, and lead to a "better life" for themselves and their future generations. Show More
Mission
---
Create positive 'change' in the lives of the urban and semi-urban poor. Programs must meet our benchmark of "Quality & Customer Satisfaction"
Execute programs with high efficiency and minimized costs through partnerships with NGOs; like-minded organizations and government programs.
Provide multi dimensional support for the entire family and not just for the woman. Research and develop innovative solutions to problems of the urban poor. Show More
About The Founder
---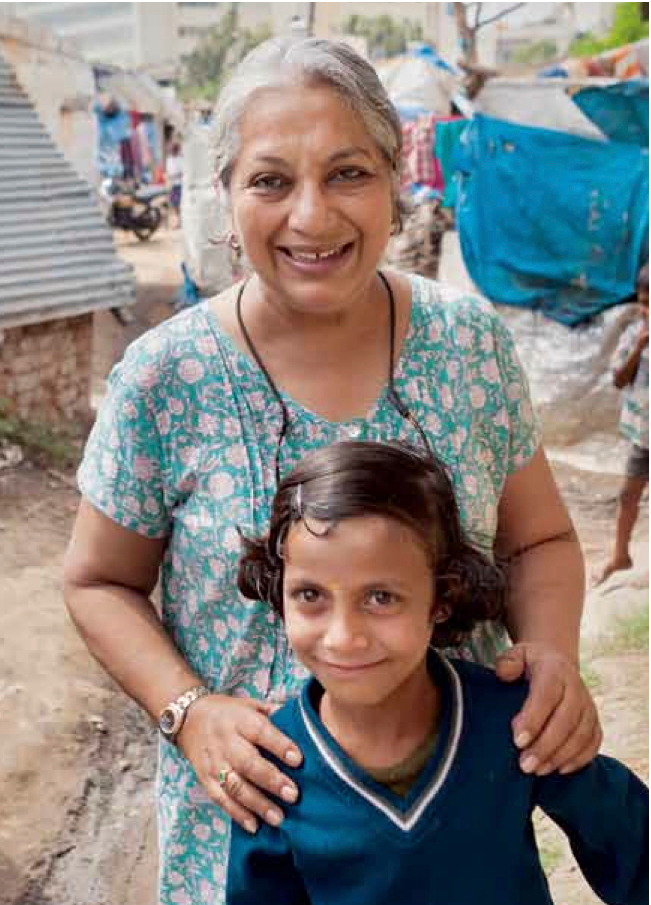 Elaine Marie Ghosh
After several successful career paths (Banker, Mother, Premises Consultant, Restorer of Antique Furniture), Elaine Ghosh moved to Bangalore with her husband, Samit Ghosh. She worked closely with construction and migrant laborers on a number of construction projects for friends and family. This led her to realize their struggles and the hard lifethey lived because society had neglected them. Her interaction and experience inspired her to conceive Parinaam Foundation in 2006 and provide a holistic approach to elevate poverty. Parinaam caters to the needs of the urban and semi – urban poor, providing critical social services such as healthcare, education, livelihood, and community development.

Elaine Ghosh, the pillar of our organization was a perfectionist, systematic, courageous and lived by the concept of "Tough Love". Show More
Summary
---
Parinaam foundation is a non -profit organization with a mission to provide a holistic approach to alleviate poverty. It was conceived in 2006, with the vision to create sustainable change that will have an impact on the poor and lead them to live a better life. Parinaam caters to the needs of the poor, by providing them critical social services. We provide services in the areas of healthcare, education, livelihood, and community development.

Today, Parinaam operates in 20 states. Our head office is in Bangalore, and we have regional offices/coordinators in Pune, New Delhi and Kolkata. At Parinaam, our focus is on making real change on the ground. We believe that making a difference in one's person's life is worth more than unsustainable mass scale interventions.
Awards & Recognition
---
Parinaam ranked among the Top 5 NGOs to work for in 2015 and 2016, by Great Places to Work Institute..
Related NGOs
No stories yet. Come back after some time!
Related NGOs
Celebrate a birthday. Give a surprise visit. Play. Spread a Smile!
"The greatest gift you can give someone is your time, your affection, your love, your concern." - Joel Osteen
Related NGOs
Parinaam's Annual Summer Camp
2017-04-05
---
Help 350 underprivileged children enjoy a Summer Camp. We want to learn – Will you help us? As a part of our Childcare initiative, Parinaam hosts an annual summer camp for the children of the ultra-poor communities that we work in. The children who attend the Summer Camp could never imagine a childhood that is truly innocent and carefree. The camp enables them to spend time playing games, learning about good hygiene and discipline as well as undertaking learning activities. It also enables their mothers to continue to work through the summer, knowing that their children are safe and not out on the streets. This year, the summer camp will take place for five weeks from 17th April – 20th May, for about 350 children from 17 slums. The children will be fed a snack and one meal per day through the duration of the period. They will be taken on one field trip to educational places like which they normally would have never even dreamt of.
Related NGOs